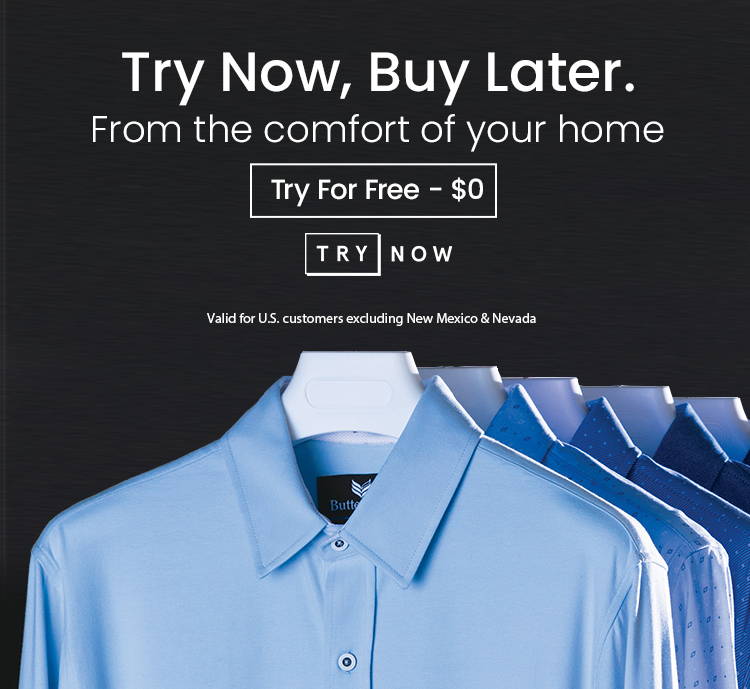 You will not be charged. We'll simply place an authorization hold on your card.

Take 7 days upon delivery to decide what you'd like to keep.
Send us back what you don't love, only pay for what you keep.
---
Try Buttercloth at home for free

---
What is Try Before You Buy?
Bring the Buttercloth fitting room to the comfort of your own home! Choose up to 6 eligible items, try for 7 days, and only pay for what you keep.
How does Try Before You Buy work?
Shop our curated collection, and select the "Try Before You Buy" purchase option when adding eligible items to your cart. Your trial begins once the package is delivered, at which point you'll have 7 days to try on your items at home, decide what to keep and return/exchange the rest.
At checkout, an authorization for the full amount of your order will be placed on your card, but your card will only be charged after the trial period for the items you keep.
Are all items eligible for Try Before You Buy?
Can I apply a discount to Try Before You Buy items?
Yes. Simply apply your valid promo code at check out.
What payment options do I have for my Try Before You Buy order?
Major credit or debit cards are accepted. Gift cards are not redeemable with Try Before You Buy orders. Please note that if you use a debit card at checkout, an authorization – while only a temporary hold – does reserve those funds and makes them unavailable for other purchases.
I live outside the U.S. -- does Try Before You Buy work internationally?
At this time, Try Before You Buy is only available within the U.S., excluding New Mexico and Nevada.
Can I revise or cancel my order?
Please email support@buttercloth.com with your order number and change or cancellation request. We will do our best to respond and resolve your request as soon as possible. Due to volume and time differences, we cannot guarantee your request will be applied prior to fulfillment.
How do I process a return?
If you are not completely satisfied with your Try Before You Buy eligible item(s), please visit returns.buttercloth.com within 7 days to initiate a return or exchange.
Remember that all returned and exchanged items must be in original condition with hang tag attached to the garment, and original packaging components included.
The following items are not eligible for return/exchange/refund:
- Items worn, used, washed, or damaged
- Items with the hang tag cut or removed
- Shipping or Shipping Insurance charges
When an exchange is initiated, your trial is ended and you are charged for the exchanged item.
---
You have our promise. Happiness guaranteed.

You have our promise.
Happiness guaranteed.